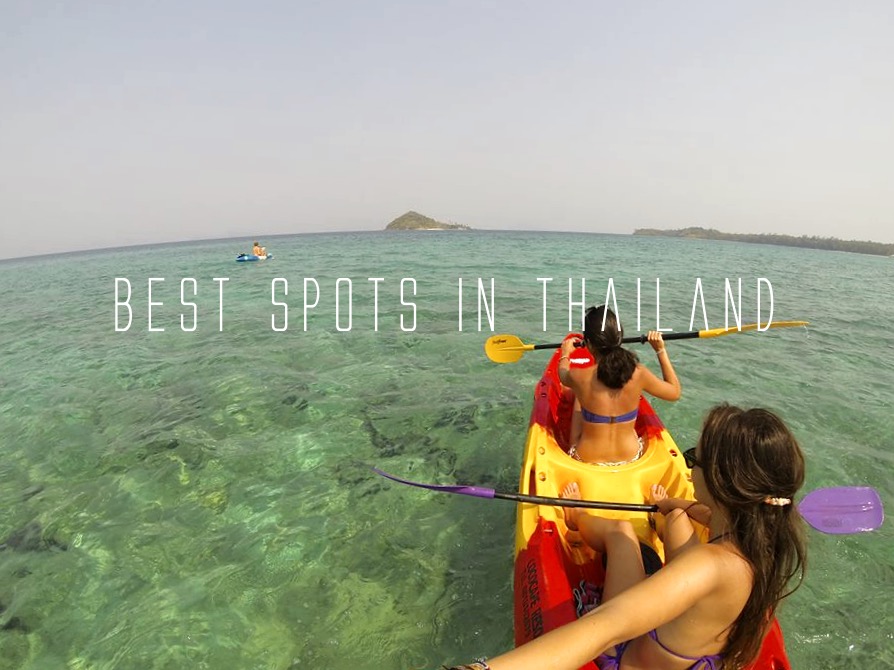 On my one year trip to Asia I went to Thailand many times. There are some places that I could never forget.
Here are few of my favorite spots, I hope it will be useful. 🙂
Krabi
Even if Krabi is crowded with people I love the place for it's unforgettabe beauty.
I recommend that you take a hotel in Ao Nang from, you'll have to wake up early if you really want to enjoy all that this real paradise has to offer.
First because you'll see the sunrise from the boat, which is a really good way to start the day, but also because the sea is high, turquoise, crystal, and there will be almost nobody on the beaches, only fisherman.
If you have to choose just one island, I'd recommend you Poda, my favorite. Maybe it was the first one I visited, but to me it was the most memorable.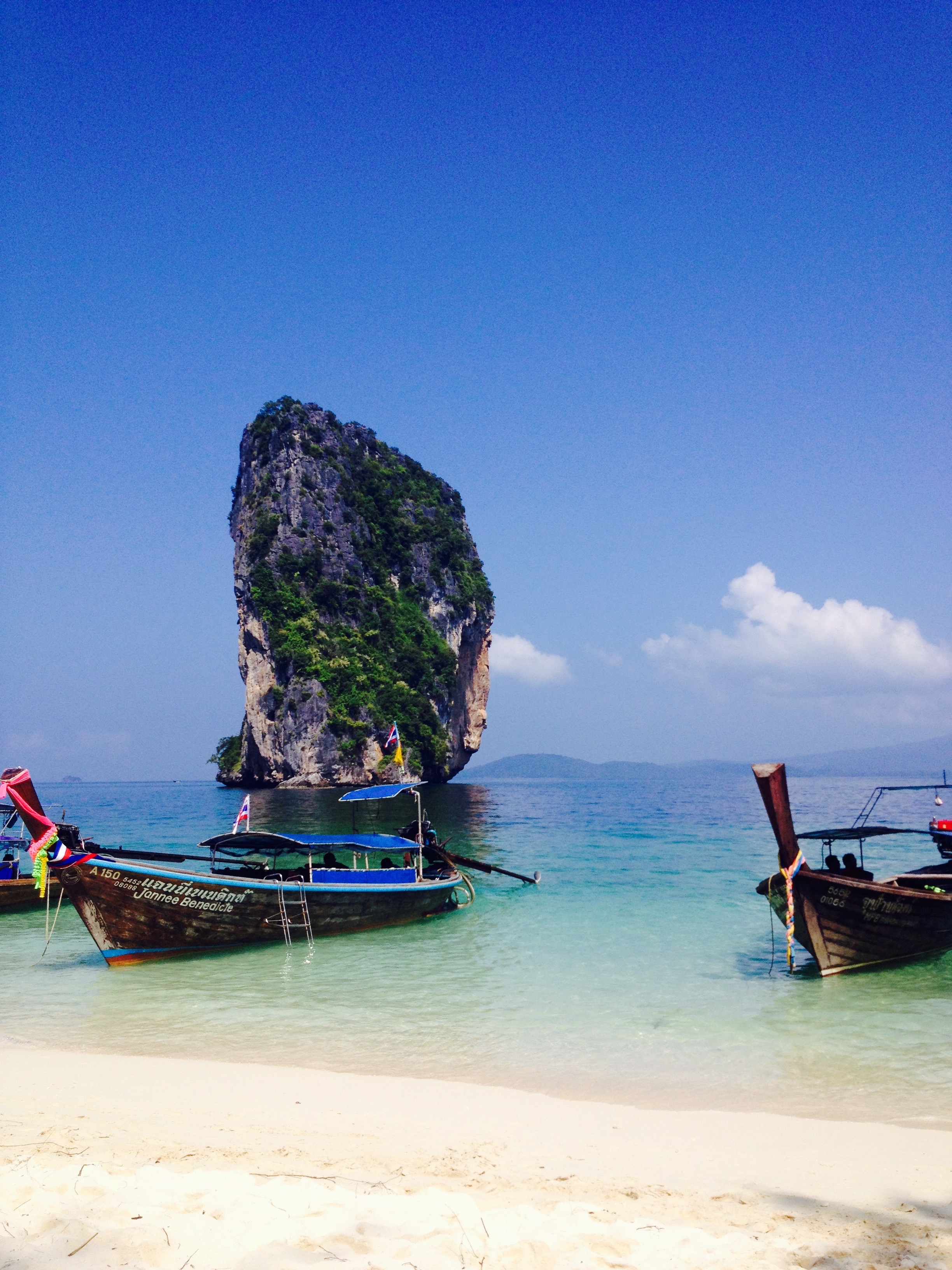 Than go directly to Maya bay, you have to go before nine, or there is no point, it's way too crowded, no more magic. (I had maaasive sunburn on the picture, so take suncream !!!)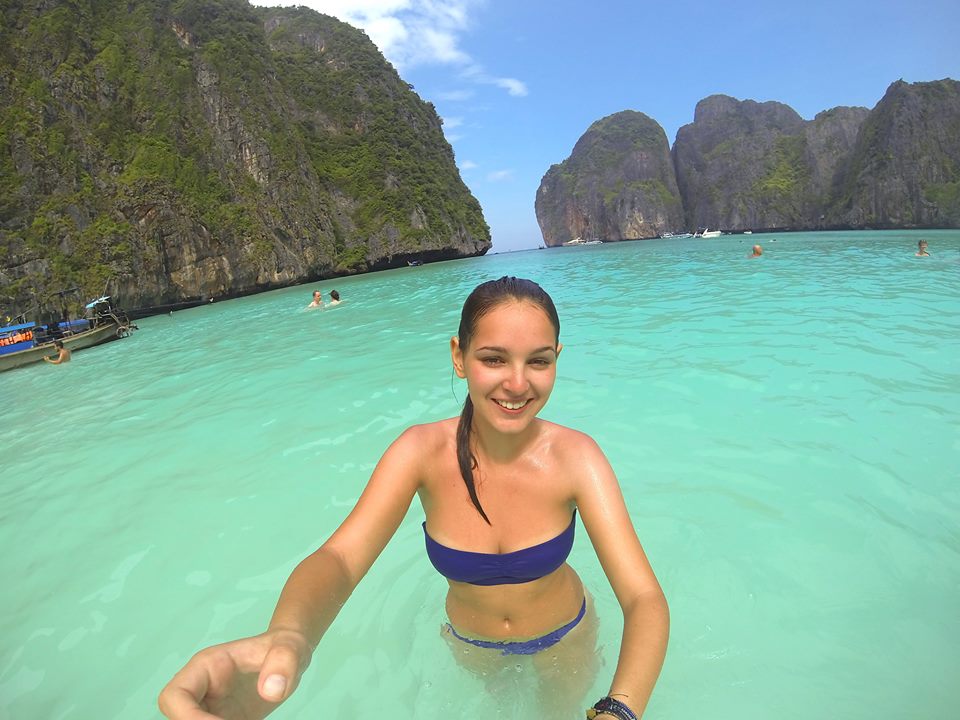 Don't forget Koh Phi Phi Lee Lagoon, you can't imagine how small you feel surrounded by the huge mountain, the water is soooo blue.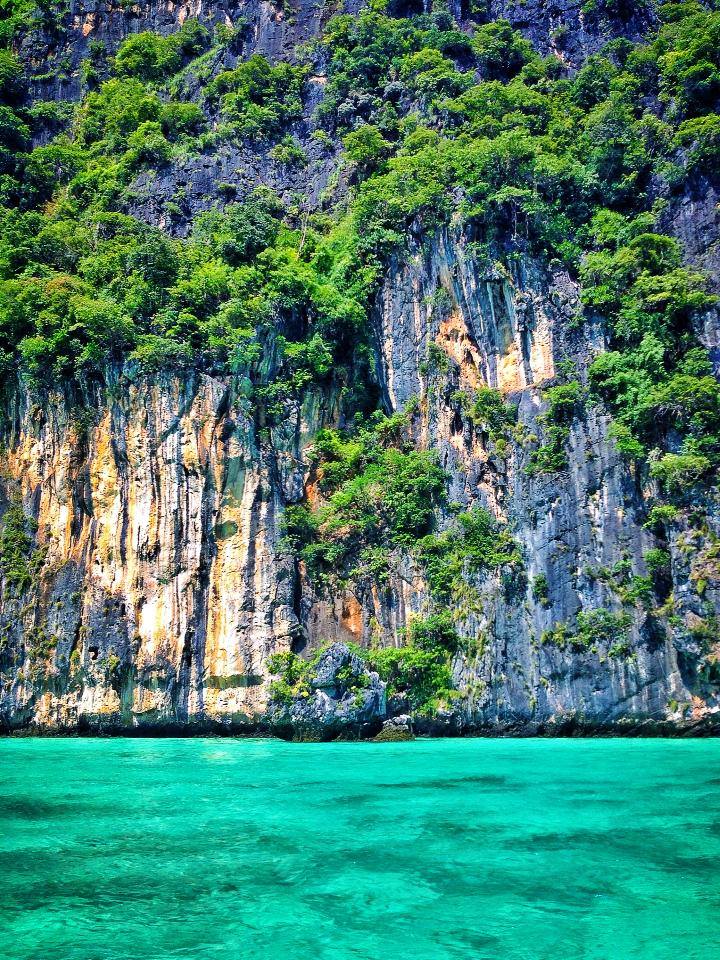 All the other islands are also amazing, chicken island, monkey beach (I can't remember the other names) but those are fot me the best around Krabi. Of course I didn't get every where…
I also recommend that you a kayak from Railey beach, I did it with my daddy and it was one of the best moments of my trip.
Here is my one week in Krabi in video
Koh Pha Ngan
Oh man, I've been on this island at least 4 times, I love it, not because of the full moon thing ( not that I haven't been), but the northern part, the unknown part is amazing ! Don't waste your time in the south, the beaches are dirty, it's very crowded, people are not really nice and son on… But if you want to get drunk it's a good place.
So there are two places in particular where I sepent my time.
The first one its beach, secret beach, it's the name.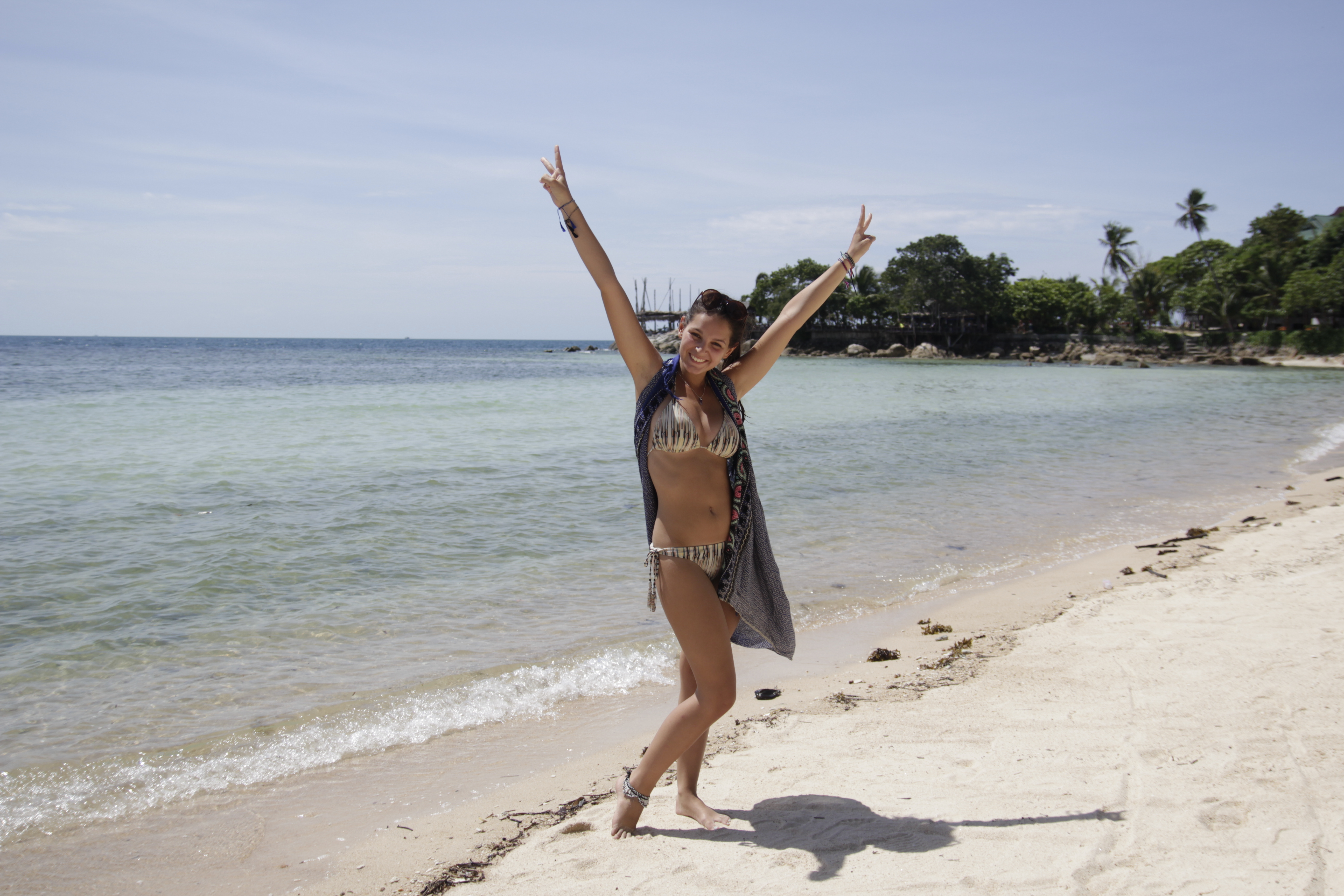 And the second one, a bar with an amaziiiiiing view, and such a good vibe too, Here is a small video I did of the Amsterdam bar at sunset.
Please take me back.
Fb page
Nothern islands / Cambodian border
Ok so this is my favorite place in the world, the place that if i should choose for a free trip right now I'd directly go back there.
There are 4 small unspoiled islands from tourism at the Cambodian border. To get there you have to take the 4 hours bus from Bangkok, then a boat from Trat.
KOH KOOD
If you want a place to relax & be amazed everyday by the beautiful beaches: this is the place you have to go! Just a few tourists, one road, three waterfalls & very kind people who are happy to welcome you.
In Koh Kood the most beautiful beach is the one where is the tinker bell resort (expensive), but the neverland resort (on budget) one is also very nice.
I was staying at the kooh kood resort, the view from the water is as crystal, the food very good, the rooms very "zen", the kayaks are free & and cheap prices ! The only thing is that the road is a little bit hard. But i really recommend this hotel.
KOH KHAM
I just stayed 3 days in Koh Mak but i've discover there the most beautiful place i've ever seen. If you are in Thailand you have to go there RIGHT NOW, because a hotel is being built so in some months when it will be finished you won't be allowed to go there.
It's call Koh Khaam, it's a small island at 45 min in kayak from the Coconut Cape hotel in Koh Mak, i think you can go also there with a boat.
The water is turquoise, the sand as flour and there is nobody. I was with few friend and we had this gorgeous place only for us, it was amazing.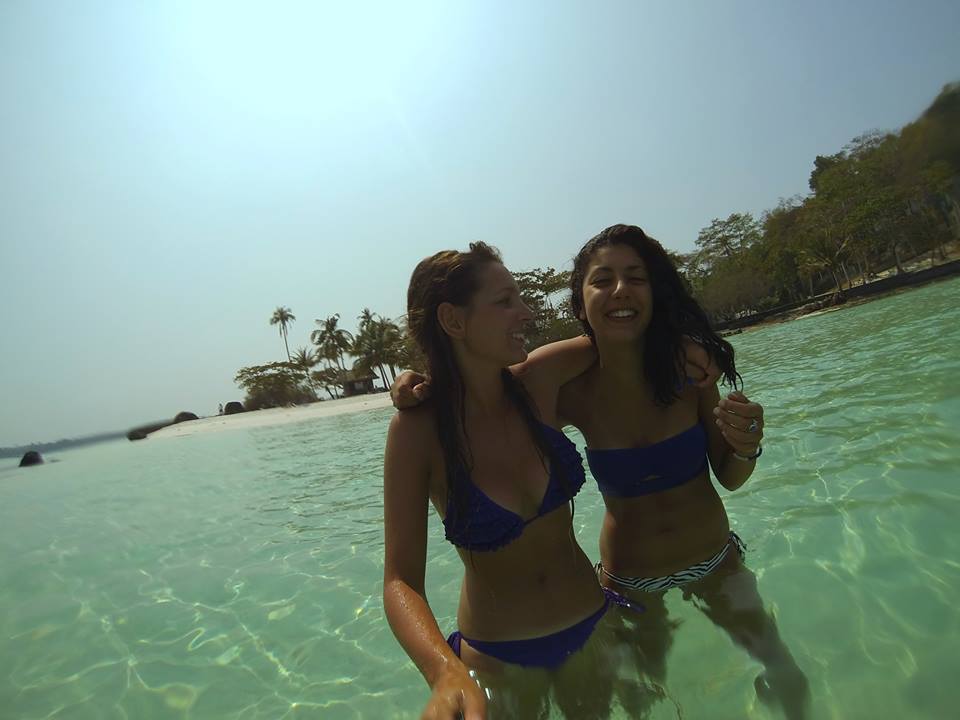 Ps : Koh Mak is also very nice, it looks like Koh Kood. Here is a quick look at the distance between Koh Kham and Coconut Cape Hotel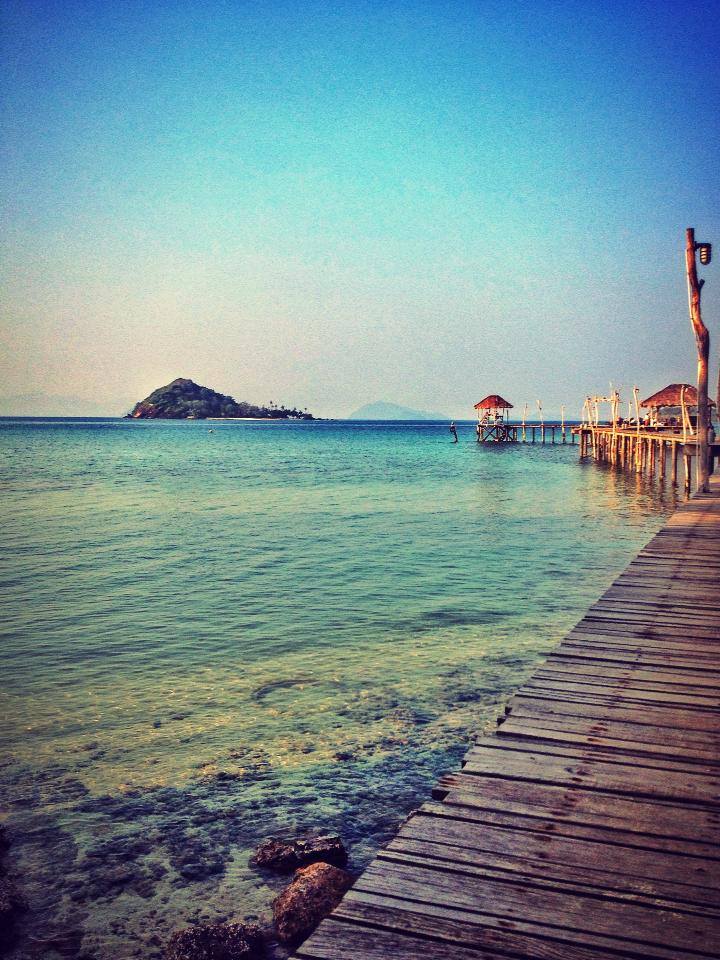 KOH CHANG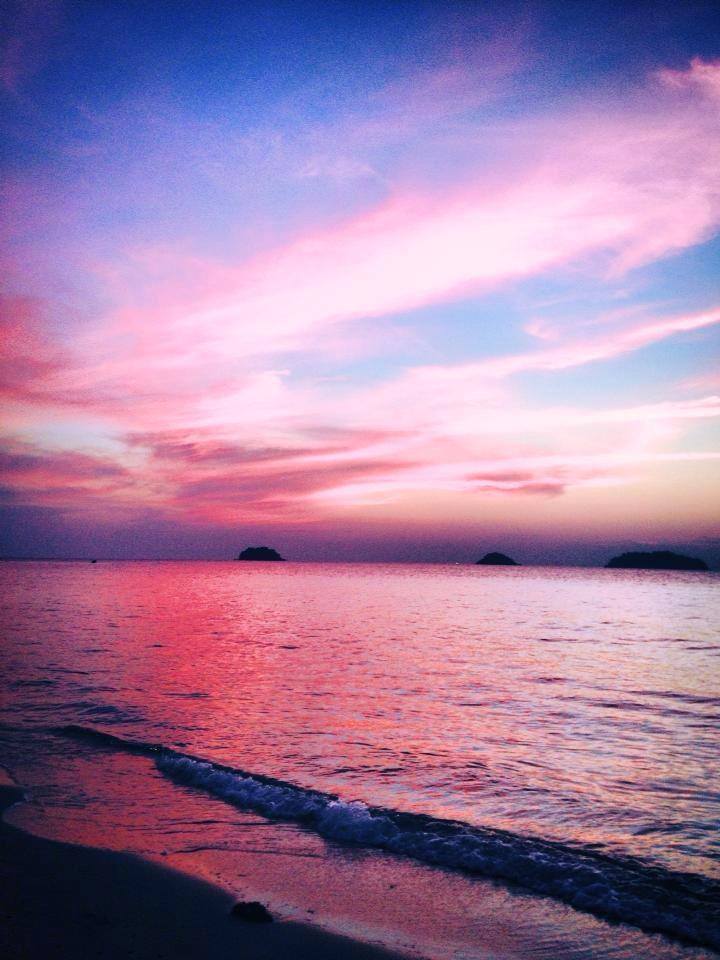 Koh Chang Sunset
The biggest island is Koh chang (Elephant island), a mountain island which is perfect to plan a road trip. That's exactly what I did. I just enjoyed the road for 2 hours, losing myself in the island until i meet some locals who told me to go to Long beach.
It's in the south, a very nice beach with good sand and beautiful waters. When we arrived there, it was 11 AM and we had this place for us, so i recommend that you wake up early !
The road is very hard to get to, if you are not a good driver you must walk 30 minutes to where the "real road" is , because it's a chaos .
The backpacker beach is a lonely beach, i really love the right part of the beach, where the water is amazing and there is less people.
At night i really enjoyed, white sand beach, it's the most famous beach  of the island, but during the day it's crowded of people (most of them are russians), for me it's just not possible. But at night the beach is a succession of bars with lanterns and lights everywhere : it's beautiful and very cool!
And my last spot is in Bangkok, Suk 11 is in the center of the city, if you have to spend a few nights in Bangkok, that's the place to be. It's a very unusualplace, everything is made on wood, it's a backpacker's heaven, it makes me think of Peter Pan's caban hahahaha ! Plus, it's very cheap!
Fb page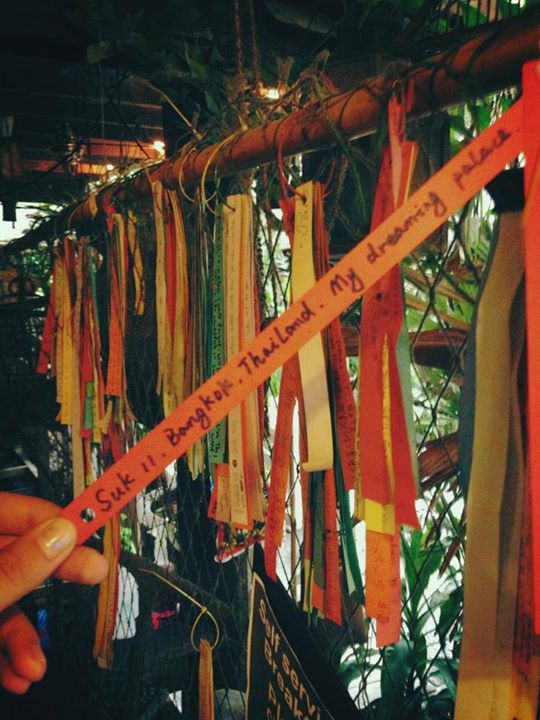 Oh and one last thing, if you are going to the Northern Island, please go to Angkor Wat, and think of me watching the sunrise. 🙂