Pecatu // Uluwatu
Bali is one my favorite places in the world, I am positive that I'll live there one day. I didn't visit everything, of course, so I don't pretend it's the best, but I hope you'll enjoy it for me.
Here is some of my advice and favorite places.
  I've finished my one year trip in Bali where I stayed for two months, i was staying with my family in an amazing house that we were renting ( which I still dream about). It was located between Padang Padang and Dreamland, which is absolutely perfect to hang out and discover new cool places everyday.
Let's start by the beaches.
–The view from Balangan Cliff –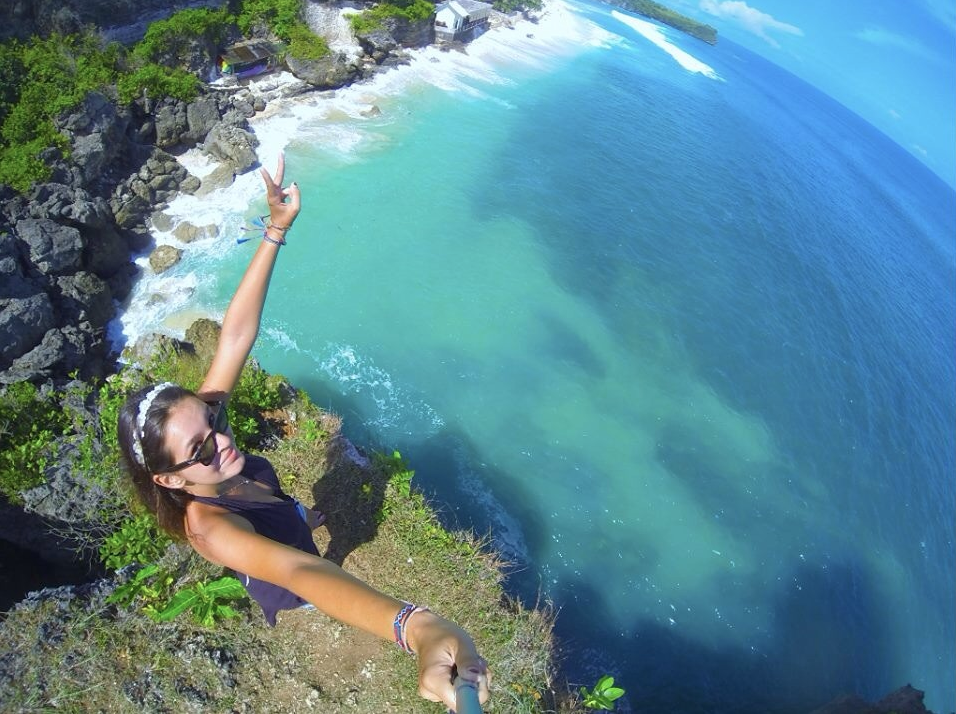 Most of the time I would wake up quite early and go to Balangan, which has a well known beach for surfers on the left side and to the right I would go to take breakfast, enjoying the crystal water of this amazing beach.
In this picture the sea was quiet high , but you can see my favorite morning "warrung" ( restaurant ), also please go up the cliff the view is amazing, and if you are in the mood for adventure keep going on the right you'll find a hidden cave with some typical hindu statues and Balinese offerings in front of the sea, a trully special place.
-Pandawa Beach Left Side-
I liked to finish my morning in Pandawa or Green Bowl, two of the less well known beaches in Pecatu. When you're coming back on the main road Jalan Uluwatu, go straight on and you'll find the choice between several secrets surfers spots.  I enjoyed eating some sate and having a mango shake in Pandawa. In particular in the warrung on the left side of the beach there is a more authentic feel, and if you're lucky enough you'll be able to enjoy listening to some locals singing and playing guitars.  There is much more to say about Pandawabut but I'll let it be a surprise…
As for Green Bowl, you'll need to be motivated to get to the beach because before enjoying the place you'll need to go down the stairs ( around 15 min), be careful because it can be slippy!
Once downstairs you'll see the place is deserted, every time I visited there were only a few surfers, interestingly this is the only truly authentic beach in Bali that has remained unchanged for centuries. Watch out for the monkeys !
-Uluwatu Beach-
Let's not forget Uluwatu and Padang Padang, two famous Balinese surf spots. At only a 10 mins scooter ride from each other these popular beaches will leave you stunned by their beauty and cool vibes they emanate. But I guess if you go there you'll discover  it yourself.
When you are on the Uluwatu beach take the stairs who go up, and discover Delpi Cafe, smoothies are amazing, and there is no words for this view in front of the waves and some of the best surfers in the world.
-Delpi Cafe views-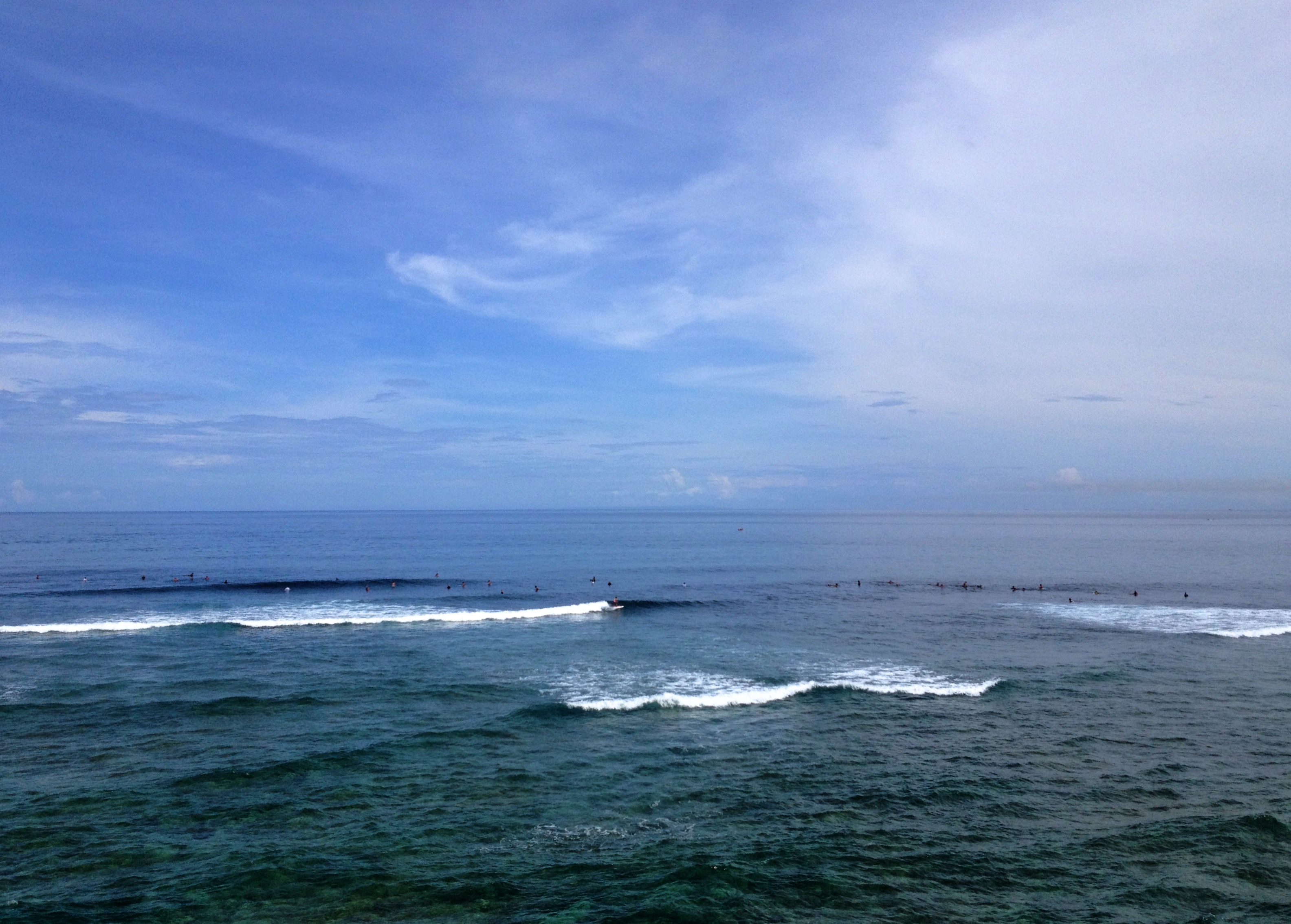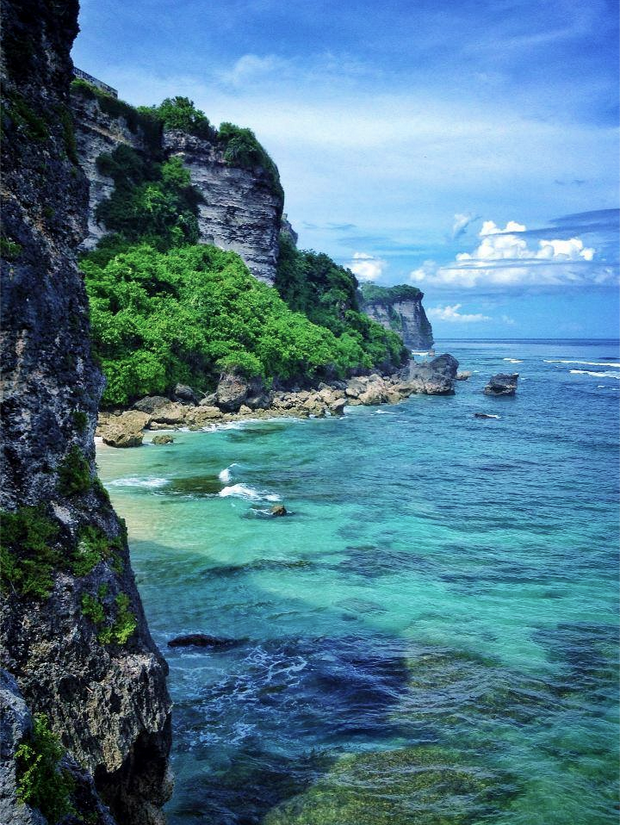 On the top of Uluwatu There is the "Blue Point Coffee", one of my favorite spots, along with the uluwatu temple of course, to watch the sunset, where the food is excellent. Also most of the time at night there are nice concerts.
-Blue point cafe View-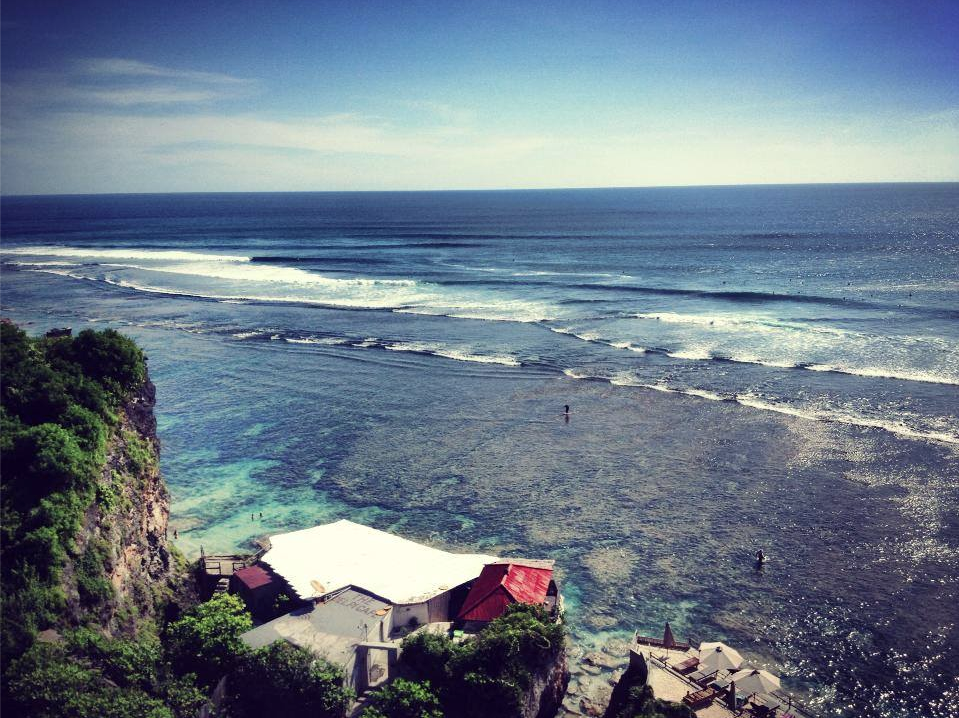 Bali would not be Bali without a little bit of Luxury, and here are my two favorite "one day beaches". Finn's Club and Karma beach are two trendy hotels near Uluwatu, they both have a private beach, and for 25 $ per person you can ponder their amazing beaches in a long chair having great food and enjoying lounge music.
-Karma beach view from the hotel – 
That's it for today guys, I hope you like my first travel article, and you'll all enjoy Bali as I do.  So now that I've shared some of my thoughts, you'll now be able see for yourself.
By the way, if you're in Bali, You HAVE TO go in Ubud, but i'll make an other article about that for sure !
I wish you all an amazing trip !
-V
-My Memories Of Bali-